 Posted on
No updates made
[Work In Progress] How the customer journey in taking a flight has changed over the years is a great story of how service innovation: is continuous where customers drive co-value generation there are many actors involved autonomously often in parallel or separate markets/industries the level of co-value generation determines which components of a system survive […] Posted on
No updates made
[Work In Progress] Customer resistance to an innovation is an aspect of service innovation less obvious in product innovation. It relates to when customers have actively decided they will not use an offered service innovation. Note that this is It is different to the adoption challenge – getting end customers familiar with and using an […] Posted on
No updates made
We innovate - under a product dominated thinking approach - to enhance features of products or find new products, to reduce manufacturing costs, or to improve processes.
This follows traditional strategy thinking of differentiation versus cost leadership; and value chains.
All good stuff; from a product dominated thinking mindset.
As we see goods as a way of delivering service, the traditional goods-service continuum makes less sense.
However, we can observe a (self-)service-service continuum. Where we move from predominantly service provider's goods used to transport service through to more use of provider's systems, physical resources and employees.
The continuum exposes various non-functional progress beneficiaries seek to make.
make progress
entice
enrich
enhance
value hierarchy
functional
non-functional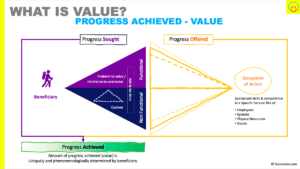 Value - it's more than the price someone is prepared to pay
It is the proposal to help a beneficiary make functional and/or non-functional progress in some aspect of their life. And it is the amount of progress made in use (co-creation of value).
That we measure value today by price paid and/or volume sold is a result of our product-dominant logic view of the world. It turns out, these are proxies we end up using as we are not relational enough. Something service-dominant logic opens our eyes up to.
The Big Picture… Welcome to what I am calling The Progress Economy. The way of viewing the world that accelerates growth and innovation. We can view The Progress Economy as three levels sitting on a simple set of fundamentals. Fundamentally, we observe that: every actor is seeking to make progress with all aspects of their […]
The Big Picture… Typically, we believe value is created/embedded by manufacturers and then exchanged at the point of sale. This is known as value-in-exchange and is the main basis of what we call goods-dominant logic. Once the buyer owns the Value, they set about destroying or using it up. It is a simple view of […]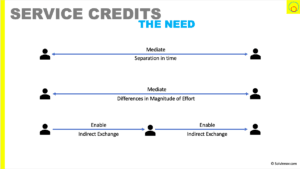 Cash is everywhere - but what role does it have as we try and look at the economy as service-exchange based?
This is a preliminary view, where I look at cash rather than as a proxy for value, as being service tokens, which supports:
mediation of temporal and magnitude differences in a service exchange
enables indirect service exchange
Such a view still allows us to observe common aspects of cash (the desire to acquire as much as possible).
And allows us to maintain our improved view of value - relating to progress being made. In addition to service-service continuum and other behavioural quirks we see.
dimensions
capabilities
'execution complexity'
simplifications
justifications
'portfolio management'
'enabling innovations'
How difficult will it be to implement your innovation in your enterprise?
We look at how we can determine that through via den Hertog's model of service (which holds for products too). And take advantage that models of this type have two components:
By determining the size of change in dimensions and the strength of an enterprise's capabilties, we can score an innovation's Implementation Execution Complexity
In doing so, we open the path to reducing that score - perhaps simplifying the change, or improving capabilities. And to portfolio management.